Cabin Fever Sporting Goods – Hunting Department
Firearms, Ammo and More!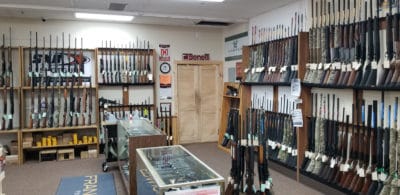 Cabin Fever Sporting Goods caters to every hunter's taste with our wide selection of everything you need for a spectacular hunting experience. Thinking of upgrading? We have new, used and consignment firearms and you'll never run out of ammunition because we carry all types. Come in often, because our selection is constantly changing.
In-store Gun Sighting
Don't let that big buck get away! Keep your eye on the prize with new optics. At Cabin Fever Sporting Goods, we provide mounting and bore sighting of your scope so you don't have an excuse to miss. Can't find a place to sight it in? Drop your firearm off and we can sight it in at 100 yards at our private range. 
Muzzleloaders and Supplies
Are you a black powder guy? Check out what we have to offer for muzzleloaders. We carry all the muzzleloading supplies you will need. At Cabin Fever Sporting Goods, we can meet all your hunting requirements.
Gun Cleaning and Repairs
Don't miss your target because of a dirty gun! Keep those guns clean with our gun cleaning supplies. We have all the necessities needed to keep your firearms is top-notch working order. Need professional gunsmithing? No problem. Ask us about our gunsmithing services and warranty work. From minor to major repairs, we are here to help.
Hunting Accessories, Blinds, & Clothing
Disappear into the background with one of our new blinds and stay hidden, yet safe with our hunting clothing. Come in and check out our wide selection of hunting accessories. Cabin Fever Sporting Goods has all the gear and hunting services you'll need to make your hunting expedition a success. Need a firearm safety class? Call in December for information on our Spring classes.
Need a firearm transferred? Cabin Fever Sporting Goods will provide the use of our federal firearms license for the transfer of firearms. We are State of California Transfer of Firearm Certified. 
We Carry the Top Brands in Hunting Equipment