Cabin Fever Sporting Goods – Archery Department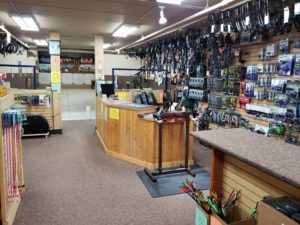 Are you an archer in need of assistance with tuning or adjusting your bow? At Cabin Fever we have a full line of archery services to delight and intrigue everyone from the novice shooter to the seasoned hunter. Our technicians will take the time to assist you with new equipment that you purchase or your existing equipment. Our archery technicians will help you with whatever you need to shoot like a pro.
Our expert technicians can assist you with the following archery services:
Archery Services – Range
We have a 20-yard Indoor Archery Range to practice and hone your skills. No need to worry about not having a bow or leaving yours at home. We have different styles of bows to rent by the half hour or hour on our range. Never shot before? That's OK because we can provide instruction with your rental for a little extra.
You can also rent our range for birthday parties, scout troop meetings or corporate events. We also have archery instructors for individual or group lessons if needed. Associated with a local NASP Archery Program, stop in and check out the NASP equipment and discounts that we offer.
Youth and adult archery leagues start up in January and March, so give us a call for details or to sign up.
Archery Services – Bow Technicians
Our skilled and knowledgeable bow technicians are always on hand to assist you with the following:
Weight or draw length adjustment
Restringing your bow
Adding custom strings and cables
Tuning bows and/or arrows
Chronographing for those chasing speed
Private lessons for the beginner or advanced shooters are available
Archery Services – Arrow Work
The following Archery services are available:
Re-Fletching
Arrow Cutting and Inserting
Custom Fletching
We Carry the Top Brands in Archery Equipment